Why Your Business Needs Workplace Athletic Trainers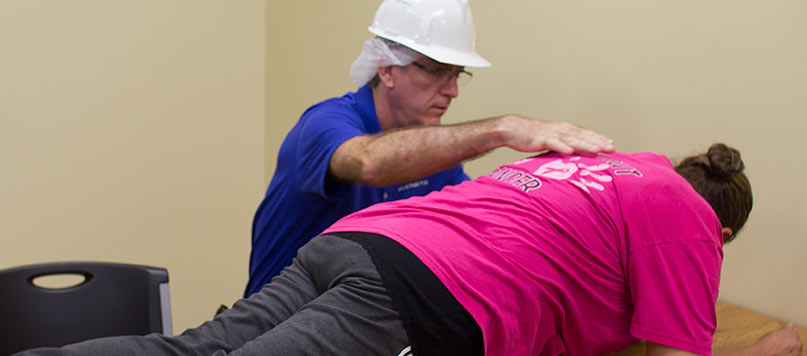 To the casual observer, athletic trainers are just the people who run onto the field after an athlete gets injured. Few may be aware of the fact that even in organized sports, an athletic trainer's job continues throughout the rest of the week, both on and off the field, in order to ensure the well-being and safety of each team member. Much like professional athletes, industrial workers stand to benefit greatly from the help and expertise of workplace athletic trainers.
This March marked yet another annual celebration of National Athletic Training Month. In a press release that outlined this year's theme, the National Athletic Trainers' Association reminded the public that "athletic trainers are health care professionals who work in a variety of settings and with all kinds of people—not just athletes" [1].
In fact, over half of practicing athletic trainers work outside of school athletic settings and provide services to people of all ages and professions—including those who work in manufacturing, construction, or other industrial settings.
Why bring athletic trainers into the industrial workplace? First of all, they specialize in the prevention, assessment, and treatment of musculoskeletal injuries and illnesses, which continue to limit employee health and productivity. Their extensive medical knowledge and training, in addition to preventative approach, make athletic trainers ideal for helping industrial workers reduce injuries.
The unique expertise of athletic trainers
To become an athletic trainer, one must attain a bachelor's or master's degree in Athletic Training through a program that is accredited by the Commission on Accreditation of Athletic Training Education (CAATE). In addition to basic and applied sciences, students must demonstrate competency in eight professional areas, which include:
Evidence-Based Practice
Prevention and Health Promotion
Clinical Examination and Diagnosis
Acute Care of Injury and Illness
Therapeutic Interventions
Psychosocial Strategies and Referral
Healthcare Administration
Professional Development and Responsibility
After graduating, students must then successfully pass the comprehensive certification exam administered by the independent Board of Certification (BOC). To actually practice as an athletic trainer, one must also comply with state regulatory requirements to obtain either registration or licensure, which all states except California currently have. Registration or licensure can be renewed every few years by completing a predetermined number of continuing education units, paying the necessary fees, and remaining in good standing with the BOC.
Not all athletes wear jerseys
In practice, athletic trainers offer what's referred to as a continuum of care: they work on-site with individuals in a variety of settings not only to recognize and treat injuries, but also to prevent injuries from even occurring. They provide personalized, face-to-face attention and education to each worker based on their unique health concerns and needs.
This need for a continuum of care applies to all individuals who perform physically intense, repetitive tasks, regardless of the setting.
For example, take the career of a professional athlete in the U.S., which lasts, on average, about three to seven years [3, 4, 7]. Between practice, weightlifting, and two-hour or so games, players engage in bending, lifting and twisting on a daily basis. Each movement is carefully scrutinized by the team's athletic trainers to ensure they're able to stay in the game—or when it's time to get off the field.
Next, consider the typical industrial worker. Although the average career length for an employee working in manufacturing, utilities, or transportation services ranges from four to nine years, many industrial workers continue performing similar job tasks for 10, 20, or 30+ years [5]. The typical shift may last anywhere from 8 to 15 hours a day. During this time, workers are engaged in a variety of movements such as lifting, squatting, or pulling, and are often required to remain standing for the majority of their day.
The industrial worker and the professional athlete perform similar movements on a regular basis. Both of their jobs require physical strength, range of motion, coordination, and endurance. They both hold the potential for musculoskeletal disorders (MSDs) such as low back pain, strains and sprains, or carpal tunnel syndrome. The real difference—besides the six-figure contracts—is that only one receives consistent, advanced medical care in order to prevent these injuries.
Proactive v. reactive approaches
In 2014, the Bureau of Labor Statistics reported that 3 out of 100 full-time workers experienced a nonfatal workplace injury or illness, and over half of these cases involved days away from work or job transfer [6]. MSDs in particular remained one of the most reported causes of lost work days or decreased productivity, accounting for over one third of all occupational injury and illness cases.
When an employee experiences a work-related injury, it ends up hurting both the individual and the company's bottom line. In order to address this often reoccurring issue, businesses can take one of two approaches:
Reactive: Deals only with the symptoms of a condition, incurring exorbitant expenses from the healthcare system.
Proactive: Prevents the cause(s) of a condition before symptoms manifest, saving both direct and indirect health expenses.
Athletic trainers are educated to recognize the value in a proactive approach to health care. For example, ACL injuries are particularly common in professional sports that involve sudden stops or changes in direction, like soccer. During pre-season conditioning, athletic trainers will engage these athletes in programs that strengthen and train their joints in order to shift stress away from the knee and decrease the risk of tearing the ACL.
Although reactive strategies such as rehabilitative therapy or even surgery are taken when athletes sustain severe damage to the ACL, a proactive approach effectively minimizes the risk of developing these injuries in the first place.
The bottom-line impact of workplace athletic trainers 
In an industrial setting, the need for a comprehensively proactive approach is made apparent by the high cost of workplace injuries. These include direct worker's compensation payments—which cost employers almost $1 billion per week—as well as the indirect costs of lost productivity and morale, accident investigation, and the training of new employees. Employers often see these expenses accumulate year after year, ultimately limiting business growth and success.
In contrast, many companies have been able to bring down these costs significantly by choosing programs that utilize on-site athletic trainers, who help reduce the risk of workers developing MSDs and other work-related injuries through preventative strategies.
Although most employers already utilize some degree of proactivity with programs that focus on workplace safety education, athletic training approach can help expand on this even further in order to reduce the number and frequency of injuries.
The first way athletic trainers can add to these programs is to expand the educational focus to include medically-based education; incorporating key kinesiological concepts to ensure that each worker understands how to correctly position their bodies and perform these movements as safely as possible.
Athletic trainers also bring in physically proactive measures such as warm ups and exercise in order to properly prepare workers' bodies for the specific job tasks that they perform on a regular basis.
Finally, athletic trainers provide individualized care to workers with the precise goal of mitigating minor soreness and discomfort before they progress into injuries.
In addition to improving employee education, well-being, and physical preparedness, the proactive approach of athletic training has been proven to bring tangible benefits to businesses. In 2009, NATA surveyed companies that employed athletic trainers in both industrial and occupational settings. All companies experienced a positive return on investment (ROI) as a result, 80% of which reported a ROI of at least $3 for every $1 invested [2]. In addition, more than 85% of companies reported a decrease of at least 25% in both the number and costs of occupational injury.
Providing industrial workers with the same continuum of care as you would any competitive athlete requires the expertise of a trained medical professional. It's time to recognize athletic trainers as an invaluable asset in the modern workplace; by partnering with businesses to provide ongoing safety and wellness training, workplace athletic trainers can truly prepare and protect employees from both individual and occupational risks.
Sources
National Athletic Trainers' Association. (2009). Athletic trainers provide return on investment and decreased injuries in occupational work settings [Executive summary]. Retrieved from http://www.nata.org/sites/default/files/ROI_Occupational_Settings_2009.pdf
National Athletic Trainers' Association. (2016). March 2016 National Athletic Training Month [Press release]. Retrieved from https://www.nata.org/sites/default/files/natm2016-toolkit.pdf
National Football League, NFL Communications. (2011). What is average NFL player's career length? Longer than you might think, Commissioner Goodell says [Press release]. Retrieved from https://nfllabor.wordpress.com/2011/04/18/what-is-average-nfl-player's-career-length-longer-than-you-might-think-commissioner-goodell-says/
NHL Average Career Length. (2010). Retrieved from http://www.quanthockey.com/Distributions/CareerLengthGP.php
U. S. Department of Labor, Bureau of Labor Statistics. (2014). Employee Tenure in 2014. Retrieved from http://www.bls.gov/news.release/pdf/tenure.pdf
U.S. Department of Labor, Bureau of Labor Statistics. (2015, November 19). Nonfatal Occupational Injuries and Illnesses Requiring Days Away from Work, 2014 [Press release]. Retrieved from http://www.bls.gov/news.release/pdf/osh2.pdf
University of Colorado at Boulder. (2007, July 11). Average Major League Baseball Career 5.6 Years, Says New Study. ScienceDaily. Retrieved from www.sciencedaily.com/releases/2007/07/070709131254.htm
You may be interested